Upcoming Events
Putting Fore! Crystal Roses Golf Tournament 2019
Friday, June 7th, 2019
Check in time: 6:45am | Tee Time: 8:00am
Hidden Valley Golf Club
10 Clubhouse Dr, Norco, CA 92860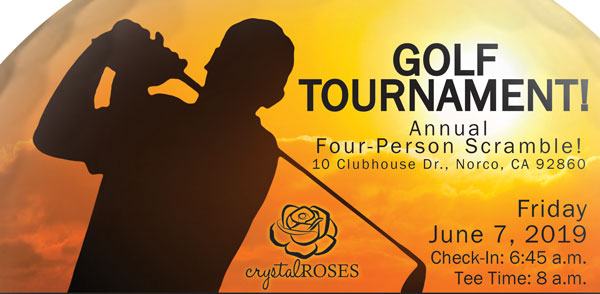 ---
---
Sponsorship Options
Crystal Rose Golf Package – $2,700
Eight (8) golf tickets
Sponsor reference in press releases and promotional materials for one year
Opportunity to provide a promotional item in event giveaway
Three (3) premium-hole sponsorships with signage
Signage and recognition at awards ceremony
Extended rights to retain Title sponsorship on a one-year continuum
Provide Crystal Roses Comfort Totes for forty (40) women on behalf of you or your company
---
Lavender Rose Golf Package – $1,100
Four (4) golf tickets
Prominent mention in selected event press releases and promotional materials
Opportunity to provide promotional item in event giveaway
Two (2) premium-hole sponsorships with signage
Signage and recognition at awards ceremony
Featured in Crystal Roses social media
Provide Crystal Roses Comfort Totes for twenty (20) women on behalf of you or your company
---
Red Rose Golf Package – $550
Two (2) golf tickets
Prominent mention in selected event promotional materials
Opportunity to provide promotional item in event giveaway
One (1) premium-hole sponsorship with signage
Signage and recognition at awards ceremony
Featured in Crystal Roses social media
Provide Crystal Roses Comfort Totes for six (6) women on behalf of you or your company
---
Yellow Rose Golf Package – $320
Prominent mention in selected event promotional materials
One (1) par 3-hole sponsorship with signage
Recognition at awards ceremony
Featured in Crystal Roses social media
Provide Crystal Roses Comfort Totes for four (4) women on behalf of you or your company
---
Orange Rose Golf Package – $160
One (1) par 3-hole sponsorship with signage
Recognition at awards ceremony
Featured in Crystal Roses social media
Provide Crystal Roses Comfort Totes for one (1) woman on behalf of you or your company.
---
RAFFLE PRIZES
You can provide a prize or donate $100 and we will put one together for you. Sponsor recognition in program.